"Welcome to the Middle Of Nowhere Gallery. One of my passions is 3D art. This started out innocently enough when I started using a program called Bryce 3D. This opened up a whole new area of creative exploration with shapes, lighting, camera movement and the fun of creating an entire environment from scratch. In 1995 I created a series of 3D images for the State Of The World Forum in San Francisco, California. That exhibit was titled "Music Of The Spheres" and was composed primarily of images created in Bryce. In 2004 I discovered Vue, the 3D program for creating environments for architectural renderings and walkthroughs. As I began working with the program the Vue team came up with a new version (V5) that blew my mind. In 2005 I sold my Harley and purchased two maxed-out PowerMac workstations to work with this software. One of the workstations has been rendering images and movies for 5 years continuously! In 2008 the resulting art was featured at a major exhibit in a nearby public gallery (The Bascom Center For Visual Arts). Since then I have been creating even more fantastic and interesting environments."
"I am continuing my quest for access to more powerful computers to enable me to build and compose even more elaborate and detailed creations. Anyone interested?"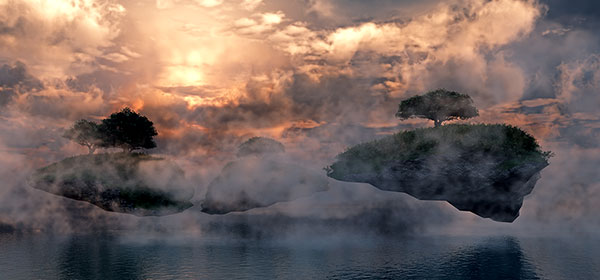 "I am also fascinated by fractals and working with colors in the fractals. You can see examples in the Fractal Art gallery here. You can also see animated fractals set to music on the Visual Music page in this site. The visual music piece titled "Mathematicos Illuminatus" is a prime example of this moving, ever expanding fractal image."
"Please enjoy these images currently in the galleries. There are currently four galleries here that you can access with the buttons above. I have drawn from the exhibits I have done as well as from my archives. Please visit all of the galleries. Since I cannot put all of my artwork online at the same time, the exhibits will change from time to time, so please come back often. Thank you for looking, and if you have any comments please visit the Contact page to send me a message."
Steven Johannessen - December 2010