What you will see here is a departure from everything you have experienced before. In the past, music video experiences have told you what to think or feel through words or visuals. These imaginary spaces here are created entirely by one person to give your mind a place to wander - think of creating a quiet space filled with sound and images that you can experience. These pieces purposefully avoid any reference to cultural or human elements. In this way, the effect of this visual music experience can cross cultural boundaries and inspire without prejudice. These visual music videos can be very meditative when experienced under optimum conditions. There are a number of very different kinds of compositions here, and each one is unique in some way. I have had many comments on the possible uses for visual music in medical recovery scenarios and doctor's offices as part of a music therapy program.
The best way to experience these videos is with a good set of headphones and a good monitor. Keep the volume low and the room dark, as the music and sound is meant to support the visuals and not be the focal point.
"Working on the "Line Of Sight" visual music project has been the most fun creatively I've ever had." says Steve. "The ability to create visual music allows me to express myself in many dimensions at the same time, and there are no creative boundaries in terms of scope and style."
"The "Line Of Sight" DVD represents my most recent foray into the exciting area of visual music composition. Take your time and look at the visual music compositions presented here in this gallery, and send me feedback on your impressions. Thanks for looking!"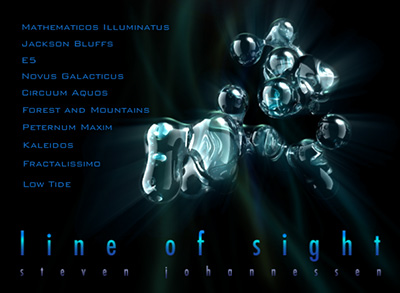 This is the cover of my DVD. The DVD contains 10 visual music tracks. The artwork above was created on my computer in 3D as a glass sculpture and then lit to get the reflections.
Get your own signed copy
of this DVD when
our online store opens!
CIRCUUM AQUOS

The music for this piece was originally titled "River Of Life". The visuals were created with the idea of using a circle as a thematic element. The piano track is a live performance with no overdubs.
MPEG-4WINDOWS MEDIA
E5

Abstract shimmering colors exhibit both random and controlled characteristics. The music revolves around the note E5 which appears throughout the piece as a pulsating high note.
MPEG-4WINDOWS MEDIA
FRACTALIS

Another fractal journey takes you into the heart of the beauty of this mathematically created visual. The suggestion of a flame is a continuously appearing theme here. The soundscape is very dreamy.
MPEG-4WINDOWS MEDIA
JACKSON BLUFFS

Jackson Bluffs reminds me of places I have been and is inspired by the lands around Austin, Texas. The park created here has a beautiful river that runs through it.
MPEG-4WINDOWS MEDIA
KALEIDOS

This is a kaleidoscopic experience that uses a distinctly world music influenced background track. The colors are mixing and moving in a very hypnotic fashion.
MPEG-4WINDOWS MEDIA
LINE OF SIGHT

Line Of Sight is a three dimensional experience. Take a journey with me through time and space as we explore the inner mind and outer spaces. What does this all mean? Sometimes it's about the journey and not the destination...
MPEG-4WINDOWS MEDIA
LOW TIDE

This is the first visual music composition I created as a proof-of-concept. The images are of an exotic planet with two moons and a view of a lake there. The classically inspired music is very somber and somewhat lonely.
MPEG-4WINDOWS MEDIA
MATHEMATICOS ILLUMINATUS

Mathematicos Illuminatus is an exploration of the nature of macro to micro as it relates to life and mathematics. This experience uses fractal geometry and ambient sonic spaces to invoke a sense of movement. The music is very abstract and pushes the boundaries of musical expression.
MPEG-4WINDOWS MEDIA
NEXUS VELOCITUM

Another fractal art piece that takes you through chaos to reveal order within. The musical soundscape is very ambient and abstract, yet somwhow it makes sense...
MPEG-4WINDOWS MEDIA
NOVUS GALACTICUS

This composition features many of my earlier visual art works, and was one of the first visual music pieces created for this DVD. The music is more abstract and is very ethereal.
MPEG-4WINDOWS MEDIA
PETERNUM MAXIM

The visual elements are created through fractal geometry, and are strongly reminiscent of the artwork of Peter Max. The music has a strong electronic groove, and is a fun composition to listen to and watch.
MPEG-4WINDOWS MEDIA
THE FOREST AND THE MOUNTAINS

Inspired by places I have been this composition takes you through the day and around the world with images created from my imagination. My love of forests and mountains inspired me to move to North Carolina.
MPEG-4WINDOWS MEDIA